Breakfast Club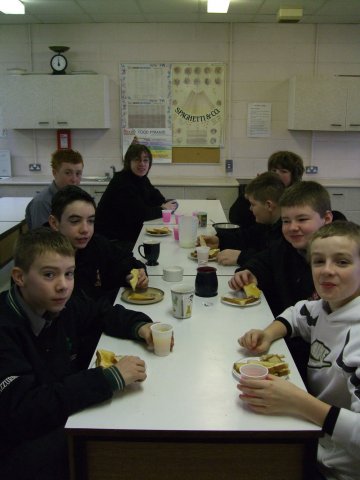 Having secured funding from the Department of Education & Science the school has in operation a Breakfast Club. The school provides cereal, yogurt, fruit, juice, tea or coffee and toast. Students who wish to do so can avail of this service between 8.30 a.m. – 9.00a.m. This service is provided free of charge.
Book Rental Scheme
A book rental scheme, established from funds raised by the Parents' Association is in operation in the school.
Career Guidance
The Guidance Service is committed to assisting all students including those with special educational needs from First year to Post Leaving Certificate Level. The service offers support and advice to students enabling them to make informed decisions with regard to their future careers. Career Guidance includes assistance in the areas of subject choice, study skills, examination techniques, interview preparation etc. All students have both class contact and the opportunity to meet the Guidance Counsellor on a one to one basis as well as through class contact.
Counselling Service
The counselling service operates under the "Pastoral Care" umbrella where its main function is to assist the student's personal development. Counselling helps students deal with the wide range of problems common to any student population.
Coláiste Cois Siúire has successfully established the Rainbows programme in the school. It is a peer support programme for students who are coming to terms with a death, separation or other painful loss in their lives. This programme is most beneficial for all those involved.
Pastoral Care
We pride ourselves on the close contacts we have with our students. As the school is small, teachers are enabled to know students individually. In addition, each class has a form teacher responsible for the welfare of students in that class. Regular staff meetings are held where the progress of students is discussed. The form teacher also liaises with other members of the pastoral care team viz, vice-principal, principal, and school chaplain. As a result, difficulties that may arise for individual students are quickly noticed and acted on before serious problems develop.
In addition to timetabled classes in Religion, the school also has available the services of the local parish priest who acts as school chaplain. He meets the students formally at class and at religious services and is available to meet individual students informally. He is also available to meet parents by appointment, preferably in the school.
Parents are encouraged to contact the school if they have concerns about their children. Teachers are available to meet parents by appointment. Also, parents are invited to attend scheduled parent-teacher meetings during the school year.
Supervised Study

Supervised study is available, four evenings per week, to all exam class students. This service is provided free of charge.
Student Council
At Coláiste Cois Siúire we encourage students to take part in the development of school policies and procedures. Every year, two representatives are elected from each year to form a Student Council. Anyone can put themselves forward to be elected.
Once elected the council nominates a treasurer, a secretary and a chairperson. The elected representative acts on behalf of the year group. The chairperson manages the Student Council and chairs meetings. If students have any issue they think the council should address, they should talk to their class representative.
Coláiste Cois Siúire strongly encourages you to participate in the Student Council and to make your voice heard.
Uniform
The school uniform is as follows:
Boys – grey trousers, Girls – grey skirt
Navy crested v-necked jumper with red stripe
White Polo Shirt
Grey stockings
Black shoes
The official stockists of the uniform are:
Treacy's Outfield Sport, 4/5 Main Street, Carrick-on-Suir, Co, Tipperary.